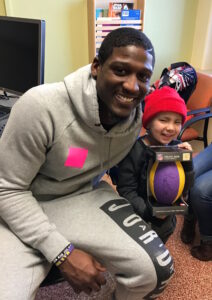 Minnesota Viking Xavier Rhodes brought holiday cheer the morning of December, 19, 2016, to children at the University of Minnesota Masonic Children's hospital. After personally shopping at a local Target retailer and selecting a variety of gifts, Rhodes hand delivered gifts to children currently staying in the hospital for treatment.
The donation event event began with a shopping trip at Target (NE Minneapolis) where a University of Minnesota Children's Hospital Child Life Specialist guided shopping through the toy and electronics aisles. Rhodes purchased a variety of toys for kids and teens. With toys in tow, Rhodes hosted a toy drive at the hospital and was greatly appreciative of the incredible support of Vikings fans that brought gifts to share with children at the hospital this holiday season.
While at the hospital, Rhodes met with Dr. Margaret MacMillan to learn about the incredible research efforts of the University of Minnesota Fanconi Anemia Comprehensive Care Clinic at the University of Minnesota Masonic Children's Hospital. He was able to see the incredible work of the hospital team and Kidz1stFund by meeting kids courageously fighting FA. Not only did this event bring holiday cheer to children at the hospital, it was an inspiring day for Rhodes.
"These kids are my heroes," said Rhodes. "They inspire me more than they even know!"
DETAILS: Rhodes' toy drive provided holiday gifts for many children in the hospital, including those with Fanconi Anemia (FA), a disease close to Rhodes. The son of Jimbo Fisher, Rhodes' former Florida State University Head Football Coach, was diagnosed with FA which lead Fisher to begin a foundation called Kidz1stFund. Rhodes has continued to support his former coach and Kidz1stFund while playing in the NFL. The Kidz1stFund helps directly fund research efforts at the Masonic Children's Hospital, the No. 1 research facility for FA in the country.
"We are family, both and and off the field and when I heard that coach Fisher was starting a foundation, I knew I wanted to support him and his family in any way I could," said Rhodes.
About Xavier Rhodes:
Xavier Rhodes was born and raised in Miami, Florida where he attended Miami Norland High School. He played football from 2009-2012 at Florida State University before being drafted by the Minnesota Vikings in 2013. Xavier is in his 4th season with the Vikings and continues to be a key contributor to the team's success. As a focused and goal oriented individual, his determination continues off the field through his charity involvement with Kidz1stFund. During the off-season Xavier resides in his hometown of Miami, FL.
About University of Minnesota Masonic Children's Hospital:
University of Minnesota Masonic Children's Hospital brings the power of academic medicine to bear so that we can transform the health of our community for the better. We provide a broad range of pediatric specialty programs, from surgery, imaging and neonatal and pediatric intensive care to cardiac and oncology (cancer care) services and blood and marrow and organ transplantation. Our clinical staff work with patients and apply innovative research from the University of Minnesota to create and further medical breakthroughs. This has led to several medical firsts, including the first successful pediatric blood marrow transplant, infant heart transplant in Minnesota and cochlear ear implant surgery for a child. Through teamwork and collaboration, we respectfully address the physical, emotional, cultural and spiritual needs of pediatric patients and their families.
About Kidz1stFund:
Kidz1stFund was established by Jimbo Fisher and Candi Fisher after their younger son, Ethan, was diagnosed with Fanconi anemia, a rare blood disease affecting about 1 in 131,000 births annually. The Fishers launched their public battle against FA in the hopes of improving treatment options, raising national awareness of the disease, and helping to fund research that will lead to a cure. The Fishers created a fund at the University of Minnesota Foundation titled "Kidz1stFund for Fanconi Anemia Research" in which all proceeds are donated to support FA research as directed by Drs. Margaret MacMillan and John Wagner, co – directors of the University of Minnesota Fanconi Anemia Comprehensive Care Clinic. This fund supports FA research focused on the development of safer treatments for FA patients with marrow failure, myelodysplastic syndrome, and cancer as well as the identification of new therapeutic approaches for preventing and treating cancers particular to FA.