Minneapolis, Minn. – Thursday, Dec. 1, 2016 – As the Minnesota Vikings prepare to face the top ranked Cowboys tonight, Vikings Star Xavier Rhodes has teamed up with his former college football coach, FSU's Jimbo Fisher, to tackle another huge rival off the field: Fanconi anemia. During the high-stakes Thursday Night Football game, Xavier will sport and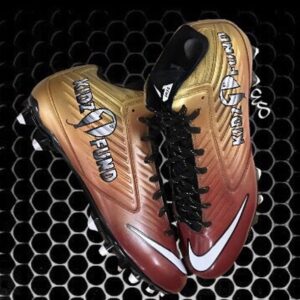 later auction off a special pair of Kidz1stFund cleats – raising awareness and funds for the rare blood disorder with no cure plaguing Fisher's younger son, Ethan.
Along with Xavier, athletes across the NFL are honoring the charity of their choice on their feet as part of #MyCauseMyCleats Campaign in Week 13.
"I was playing under Coach Fisher when Ethan was diagnosed with FA," said Rhodes. "I saw firsthand how it affected kids and families. Because we are family, on and off the field, I knew I wanted to support the Fisher's and this cause in any way I could."
Coach Jimbo and Candi Fisher are equally moved by Xavier's gesture, which is part of a larger partnership with FSU's former star defensive back.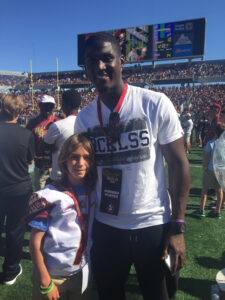 "I can't tell you how much it means to me to see former players like Xavier step up to support my family and make a difference in our fight for a cure," Fisher said. "Xavier is a phenomenal man and I am so grateful for his kindness and support. He reached out to us and told us he wanted to know how he could make a difference and I was blown away by his commitment. The Vikings and Minnesota are blessed to have someone that gives back to the community, but that is just who he is. I look forward to seeing him continue to excel on and off the football field."
Rhodes is in his fourth season with the Vikings and is already proving to be a force on the gridiron – recently named the NFC Defensive Player of the Week. He is taking that same competitive approach in the fight against Fanconi anemia.
Funds raised will ultimately be donated to University of Minnesota Masonic Children's Hospital, which is the nation's leading research center for the disease and located only a few miles away from Rhodes' US Bank Stadium locker. Xavier is also planning a Kidz1stFund weekend in December with the hospital to benefit the Fanconi Anemia Comprehensive Care Program.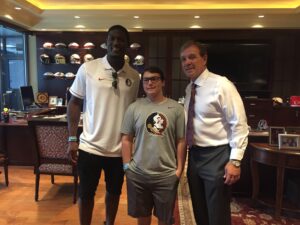 Since its inception nearly five years ago, Kidz1stFund has donated $3.5 million directly to the research center.
While all Fanconi anemia patients will ultimately need a bone marrow transplant to prolong life, research advancements have led to a higher life expectancy – from early 20's to about 33 years old. Kidz1stFund has also sponsored bone marrow drives adding approximately 5,000 people to the National Bone Marrow Registry; eight of those individuals were selected as a match and have donated to save the life of a patient in critical need.